Home Climate Control with the Gift of Comfort:
MIM-A60UN Thermostat Adapter Bundled with Free VPL24-210 24VAC Transformer!
Upgrade your thermostat with ease using the advanced MIM-A60UN Thermostat Adapter Interface by Samsung. Plus, as a bonus, enjoy a complimentary VPL24-210 24VAC Transformer, enhancing the convenience of your setup. Thank you for shopping with us and Happy Holidays.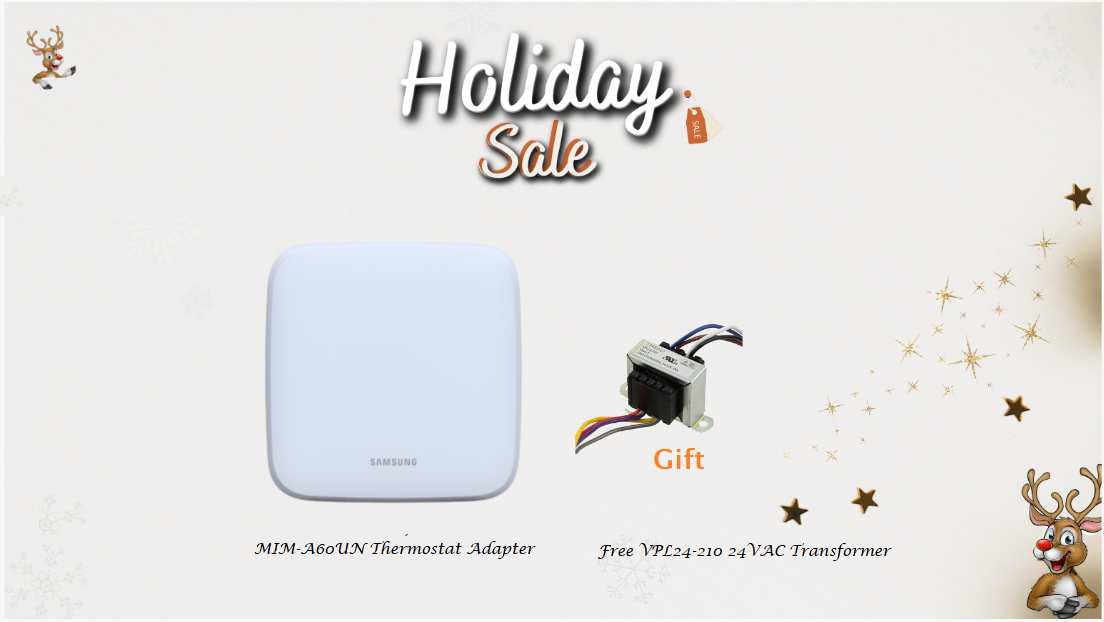 MIM-A60UN 24VAC Thermostat Adapter

Get a broader range of options (specific thermostat features or designs) for your home climate control by installing a Samsung MIM-A60UN third-party thermostat adapter that facilitates the use of third-party thermostats with Samsung HVAC systems.
Customize Control

Consider a thermostat adapter that allows for personalized control over heating and cooling stages, fan speeds, and other settings, giving you more flexibility to tailor your indoor climate according to your preferences.

Plan Your Festive Days

Map out your holiday week to perfection with a thermostat of your choice courtesy of a 24VAC Thermostat Adapter that comes with a free isolation transformer for enhanced compatibility.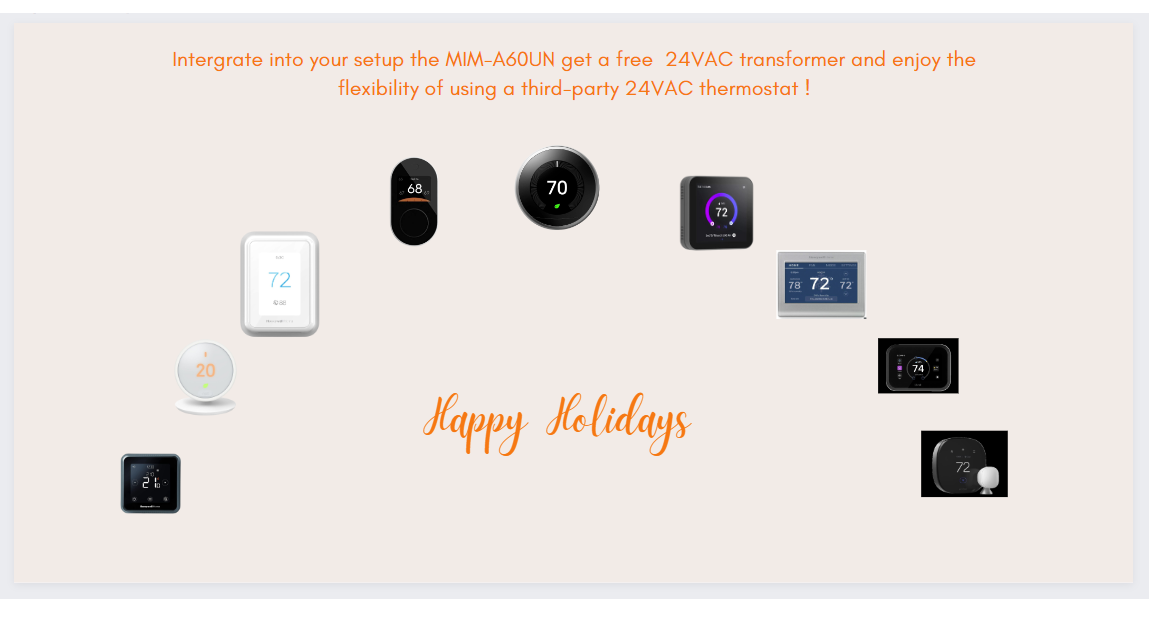 Features

Controls: basic control of power (ON/OFF) and mode (Heat, Cool, Fan - with adjustable speed settings).
Features options for heat staging and an "Emergency Heat" output enable.
Mode: 16 heat mode and 16 cool mode temperature setting options.
Heat or cool stages: or 2 stages of cooling and heating inputs configurable for various operating modes.

Compatible with Samsung indoor Units

Compatible with 24VAC thermostats.
Compatible with DVM S Heat pumps, Ceiling Air Conditioner (CAC), Multi-split FJM, and residential RAC (See more).
Holiday Gift Bundle:
MIM-A60UN 24VAC Thermostat Adapter

Supports the MRW-TA external temperature sensor direct

connection

GIFT (VPL24-210)

24VAC transformer required for the MIM-A60UN Thermostat Adapter
Maximum Power: 5.0VA
Available Market Places:
Click the button below to place your order:
R

f

wel

Deal Includes:
- Complimentary 2-day free shipping to most US states.
- Free Tech Support.
- Lowest Price
- 30-day free return policy.
- Product warranty from the manufacturer.

Don't Miss Out
Our holiday deals are for a limited time only. Seize the moment and make the most of our festive discounts. Still have questions? Our dedicated customer support is here to assist you every step of the way. Dive into our diverse range of products from HVAC Controls to Power Solutions and Unique Gift Ideas. Should you need assistance, our dedicated Customer Support is just a call away at ( +1 480 218 1877)