| | |
| --- | --- |
| Business Connect Solutions | |


This website solves the mobile workforce needs. Salesforce automation and business data availability in remote geographies and in realtime is paramount for profitability in these data-driven times. Employees need not be tethered to the office! We address the solutions of various industries ranging from real estate to insurance, finance, accounting. Furthermore, wireless data connectivity solutions support remote satellite offices for a fraction of the cost of traditional remote backhaul techniques such as satellite and T1 at much higher speeds than dialup. Contact us to learn more.
Illustration Construction Site Wireless Data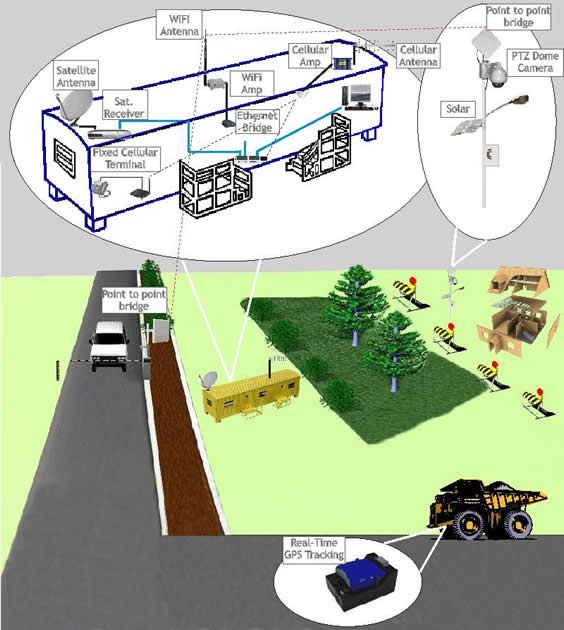 | | |
| --- | --- |
| Wireless Redundancy & Business Continuity Solutions | |


Now more than ever business continuity planning (BCP) is an indispensable exercise that most modern data-driven businesses need to undertake. This website addresses the needs of remote data backup, network backhaul redundancy, and business continuity after a disaster or other critical data infrastructure disturbance. These solutions must never be an afterthought. The high performance and low cost of cellular 4G data systems have now enabled even small businesses to maintain seamless connectivity to the Internet when their primary backhaul method fails. RfWeL has assisted various businesses in different vertical markets to integrate cellular 3g data into their BCP. Contact us to learn more.
A few of the requirements of using cellular 4G data with WWAN routers for redundancy include:

Reliability: 4G data networks offer unsurpassed reliability. For added resilience, multiple data networks from different broadband cellular carriers may be concurrently utilized for added reliability.

Security: Cellular 4G data networks offer multiple layers of security. They also allow the tunneling of technologies such as VPN. The air interface also includes the latest cryptographic technologies enabling secure end-to-end communication.

Redundancy: The Cellular 4G network in addition to being reliable is also redundant which allows for business continuity even when a natural or manmade disaster traverses a wide geographic area including the cellular network. Backup power is available at cell sites and switching centers and many carriers are able to deploy portable base stations in disaster areas.

Speed & Q.O.S: The latest 4G cellular protocols EVDO RevA, HSUPA offer high speed, low latency communication capability thus not seriously compromising business-as-usual in the event that you have to revert to the secondary network. In fact, many SOHO's are using 3g data as their primary connection or to augment their primary connection.
Illustration of Use of Cellular as Backup to Primary Backhaul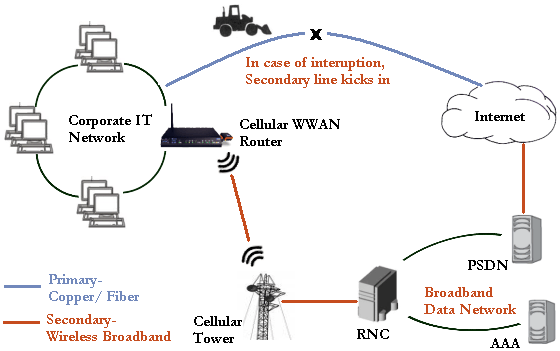 | | | |
| --- | --- | --- |
| | | Peplink is our business continuity preferred partner. Their dual-wan and multi-wan routers increase bandwidth, uptime, reliability, and accelerate backhaul speed. Contact us to find out how many of our customers have successfully leveraged Peplinks high-performance link balancers to implement robust redundancy systems Learn more |
Featured Solution:

Retail Industry: Alternative Internet connection for credit card processing & offsite video surveillance data dump in case of a security breach Learn more
| | |
| --- | --- |
| Wireless Health Solutions Overview | |


With an ever-aging population fast-rising, it is paramount that technology in general and wireless technology, in particular, improve the quality of life of retirees by among other things allowing people to stay in their homes longer before requiring round the clock assistance in retirement and assisted living communities. Wireless data solutions make this possible! Rfwel addresses the needs of this population in their homes and retirement communities by:
Wireless Solutions for RV, Campers, Motorhomes
Discuss in Forums (user community)
In-Building Cellular Signal Booster & Multi-WAN Router Site Connection Overview