RfWeL leverages it's expertise in broadband wireless access, wireless control & WWAN solutions to offer wireless video solutions and wireless video data backhaul to enable remote surveillance. We provide project design consultation, installation services & equipment training in support of wireless CCTV systems, covert surveillance and upgrade of existing video systems to support remote monitoring or remote backup
Example Remote Wireless Portable Video Surveillance (Trailer Mounted)
A typical portable wireless video surveillance system is shown below which is suitable for use in construction projects, emergency management incident command, outdoor events such as concerts and fairs as well as other temporary surveillance situations. RfWeL's expertise in remote wireless data solutions allows us to design and deliver total surveillance solutions. Key system components include:
All-IP high-performance camera systems from Axis wireless which include outdoor rated PTZ domes with 2-way audio & API programming interface for customer customizations more

Video aggregation to the local command center or to local backhaul system using point-to-point (PtP), point-to-multipoint (PtMp) and mesh networks to allow convenient and cost-effective deployment more

3G & 4G systems to backhaul video from remote locations. 3G systems include CDMA based EVDO Rev0 & RevA and GSM based UMTS/HSUPA/HSPA+. 4G systems include WiMax and LTE broadband systems. Satellite BGAN/VSAT systems for totally remote video backhaul more

Solar photovoltaic & high capacity outdoor battery backup solutions to power remote cameras and remote data backhaul systems more

Wireless RF components/ accessories and radio site hardware for a complete total solution including amplifiers (for WiFi/ cellular data), antennas (cellular, WiFi, WiMax, LTE), lightning surge protectors, outdoor ruggedized enclosures, low-loss cables, radio towers, masts & antenna mounts, etc
Whether for public safety or for personal use, high speed, low-latency, and low-cost wireless data networks have made possible exciting new techniques for remote video surveillance. We focus on applications where remote video needs to be transmitted with high quality from remote locations and viewed from anywhere in the world. The solution space for these applications encompasses two main disciplines: video surveillance (CCTV Cameras) and wireless video transmission (wireless backhaul technology). The former has been around for decades. The latter which was previously only available to very specialized law-enforcement organizations is now readily available using off-the-shelf, economical and high-performance components.

Contact us to begin your system design

Mesh Video Surveillance Case Study - Yuma, AZ

Buy SCADA/M2M Hardware

Buy Long Range Wireless Bridging Radios

Contact Us for Wireless Video/Audio Transmission Specialist for options and pricing.
Long Range Wireless Bridges for Remote Video Backhaul
Video backhaul encompasses the transport of video from cameras in remote locations to a central location for viewing or storage more. Sometimes this might require multiplexing data from different cameras to a central station before it is transported from the central station to yet another location. RfWeL offers various solutions to enable this long-range wireless non-internet based video backhaul. The recommended method is to use IP-enabled cameras and the all-pervasive IP networking for backhaul. We also offer non-IP video/audio transmission solutions as well as systems to convert legacy cameras systems to IP allowing us to take advantage of a rich selection of IP long-range bridging solutions. Axis is our IP camera provider.
Illustration showing use of 900MHz to backhaul wireless video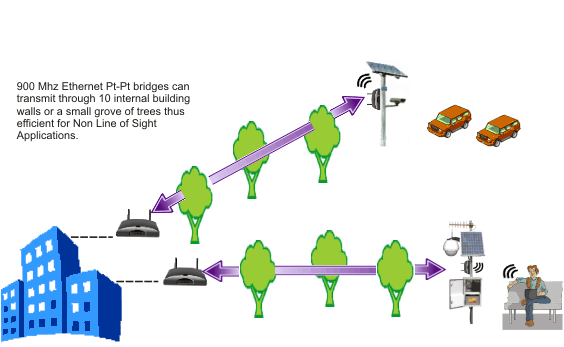 The four main frequency bands used for these applications are 900MHz, 2.4GHz, 4.9GHz, and 5.8GHz. Each has its own benefits and shortcomings so we work closely with you to understand your requirements and other constraints. We don't encourage 2.4GHz ISM due to its high potential for interference. 4.9 GHz is licensed for Public Safety use. Contact us if interested in 4.9GHz solutions.
900MHz Non-Line-of-Sight Wireless Video:
900MHz products provide an ultra-long-range non-line-of-sight (NLOS) outdoor wireless broadband backhaul. Utilizing the 900MHz spectrum for wireless transmission, IP based cameras are able to be deployed in areas that may be obstructed by trees, buildings, or any other obstacles. 900MHz signal can pass through 3-4 leafy trees with little to no data loss in throughput. Our 900 MHz solutions allows for a maximum of 1.5Mbps raw data rate - this equates to an IP camera running approximately at 8-12 fps @ 320x240 resolution or 4-6 fps @ 640x480 resolution.
RfWel has partnered with Proxim Wireless for Fixed Wireless Solutions for Licensed and Unlicensed Microwave Backhaul and Wireless IP Video.

Contact Us

for Wireless Video/Audio Transmission tech support.