Finally, we have a truly mobile and nomadic wireless data solution to serve the needs of the mobile market. Mobility implies that connection is maintained when traveling at speeds as much as 100mph and nomadic implies connection is seamlessly maintained in different geographic areas transferring all the AAA (Authentication, Authorization & Accounting) functions to the new location. Cellular data technologies 4G LTE and 5G NR can finally conquer this challenge.
The V2X wireless technology is aimed at enabling data exchanges between a vehicle and its surroundings.
The components of Vehicle to Everything (V2X) include vehicle-to-vehicle (V2V), vehicle-to-pedestrian (V2P), and vehicle-to-infrastructure (V2I) communication systems that help improve road safety, energy savings, and traffic efficiency on the roads. V2V lets vehicles communicate with other vehicles on the road, while V2I allows vehicles to communicate with external entities, such as traffic lights, parking spaces, cyclists, and pedestrians.
Important parameters for high-quality in-vehicle wireless data hardware & service such as cellular modems/routers include:

Inherent support for mobility and nomadism as explained above

Rugged design, vehicle mountable & built to withstand dynamic environments

Upgradeable. Ability to add high gain antennas & amplifiers for areas with low RSS

Ability to integrate with other wireless vehicle telematics solutions

Complete network coverage through various providers or carriers

Effective management to Monitor, control, and troubleshoot mobile devices and applications from the enterprise
V2X Standards:
• IEEE 802.11p - The V2X standard using the WLAN technology

• Cellular V2X (C-V2X) - uses LTE and is an alternative to 802.11p and the 5G Automotive Association (5GAA)
Application overview of Vehicle Remote Wireless Data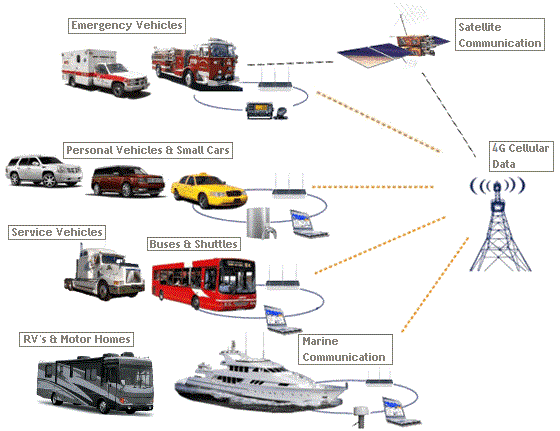 | | |
| --- | --- |
| RV Redundant Communication Backhaul System (mouse over to learn more) | |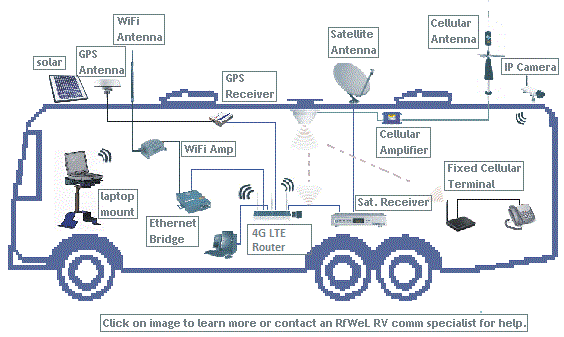 Sample Bill of Materials:
SKU/MPN
Description
Remarks
LTE Booster Amplifier
Improves signals on both Cellular (824-894 MHz) and PCS (1850-1990 MHz) bands as well as LTE Bands 700, AWS, 2.5GHz. Works with all major U.S. and Canadian carriers.
WiFi 2.4GHz Booster Amplifier

Teletronics 2.4 GHz Indoor Amplifiers With AGC

Contact us for customized computation of available link budget and minimum required amplifier gain
IP Surveillance Camera

-- various --

IP addressable camera. Contact us for storage options
Solar PV Array

-- various --

Contact us for SKU & specifications. Custom-sized for your power requirements and portability requirements.
WiFi Antenna
-- various --
Contact us for custom cables, cable lengths, or connectors not included in this kit.
GPS Receiver

-- various --

This receiver also acts as a Cellular 4G data modem, cellular router, and WiFi access point. Contact us to learn more.
GPS Antenna

-- various --

Contact us for your individual mounting constraints and color/style options
BGAN/VSAT Satellite

-- various --

Contact us for SKU & specifications